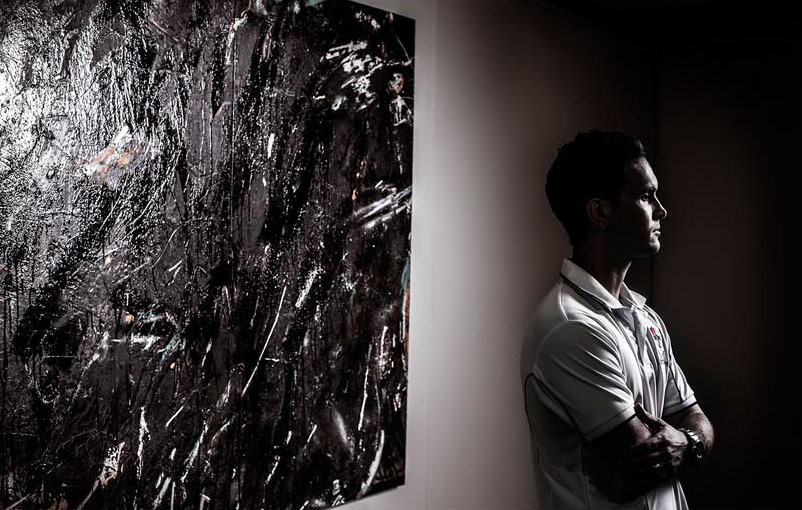 Peter is a Yuin man from the South Coast of New South Wales. Born in the early 80's to an English father and Aboriginal mother he grew up in Blacktown in Western Sydney, Darug country, until the mid 1990s when as a teenager his family relocated to Greenwell Point, a small fishing village on the New South Wales South Coast, east of Nowra — Yuin country. The Yuin people are the traditional owners of the land and water from Mallacoota to Port Jackson on the South Coast of New South Wales. He currently resides in the Illawarra and has been a Visual Arts teacher, Head Teacher of Creative and Performing Arts and is currently the Department of Education Aboriginal Learning and Wellbeing Officer for the Illawarra and South East geographical area.
His painting practice has been developing for 15 years and he has held multiple solo shows. He has twice been a finalist in the National Aboriginal and Torres Strait Islander Art Award in Darwin; and has also been a finalist in the Parliament of NSW Aboriginal Art Prize, and the Sulman Prize at the Art Gallery of NSW.
"In my artistic practice, I have identified as an 'Aboriginal artist'; a contemporary Aboriginal painter to be more accurate. This categorisation is significant to my painting practice. 'Urban-based' Aboriginal art, that broad category of contemporary creative expression with which I mostly identify, has, since its relatively recent inception in the 1970s, consistently challenged mainstream misunderstanding of racial stereotypes of Aboriginal culture and Aboriginal art.
It has done this by enabling the evolution of a contemporary visual language, in which diverse individual, family, and/or community knowledge, experiences, and aspirations are all deemed legitimate and authentic expressions of cultural identity. I outline a personal perspective that encourages discourse and raises inquiries about accepted Indigenous identity labels, which provides a standpoint not only as an Aboriginal person but also as an urban-based abstract painter. I claim an authenticity that is true to myself, from a personalised Indigenous standpoint, and consider this essential to understanding my cross-cultural arts practice and other diverse forms of Aboriginal art."​